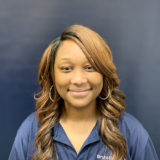 Miriam Mackey
Nonprofit Consultant
What motivates Miriam to help Nonprofit Organizations?
Miriam has worked and volunteered for several nonprofits over the years. She would say her motivation is her desire to help those who need it the most. Seeing lives being impacted simply because someone chose to put others' needs before their own. It's selfless love, the same selfless love Miriam has been shown. She now gets to show someone else and watch lives change for the better.
Nonprofit Work:
During her summers in college, Miriam worked for Heart of Texas Baptist Encampment in Brownwood, TX. She also served as a youth leader for Freedom Fellowship Church in Early, TX. Since her move to Florida, she has worked for the YMCA at Eagle Creek Elementary in Lake Nona, and for the Tupperware Brands Branch Boys and Girls Club in Kissimmee. As of today, Miriam serves in her local church, On Fire Life, and recently became a Character Coach for FCA (Fellowship of Christian Athletes) serving in both the middle and high schools in Osceola County.
Education:
Bachelor's & Master's Degrees in Youth Ministry – Howard Payne University, Brownwood, TX
Hobbies:
During her free time, Miriam works on building her online business, a faith-based apparel online store. She believes that you can share faith by not only living it but wearing it too. So, managing that store keeps her busy.
Favorite nonprofit Book, blog or resource:
A favorite nonprofit book of Miriam's is Be the Hands and Feet: Living Out God's Love for All His Children by Nick Vujicic. A great read for those who have a passion for helping others and wanting to see a change in the communities around them.