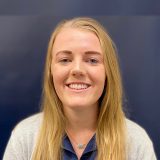 Kenlee Bruggeman
Nonprofit Specialist
What motivates Kenlee about helping nonprofit organizations? 
Helping people achieve their dreams of helping those in need is what motivates me to help nonprofit organizations. 
Nonprofit work: 
Prior to joining BryteBridge, Kenlee worked for a nonprofit that helped educate the community about dental health and why it is important. 
Education: 
Master's of Science in Organizational Leadership – Jacksonville University – expected graduation Dec 2020; Bachelor of Arts in Interdisciplinary Humanities focus in Commercial Entrepreneurship and Hospitality Management – Florida State University 
Hobbies: 
Drinking wine and going on outdoor adventures with her boyfriend and dog. 
Favorite Book: 
Hunger Games 
Favorite nonprofit book, blog or resource: 
The ChariyNet website is packed ful of resources that any person would need to know regarding nonprofits.