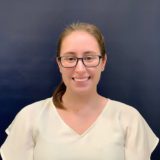 Kayli Portanova
Nonprofit Specialist
As a Specialist, my responsibilities include the preparation of a variety of corporate documents, as well as preparation of 501c3 tax exemption, annual nonprofit compliance, and other nonprofit development tools. My role in the team requires an understanding of budgeting, plus the ability to read and comprehend financial statements. Additionally, substantial vocabulary and comprehension of proper grammar are essential. My job includes constant client contact, professional speaking abilities, and the promise to provide quality customer service.
What motivates Kayli about helping Nonprofit Organizations?
While for-profit organizations can do great things to help the world, not for profit organizations are set up expressly to assist those in need. The innate altruism of this is what motivates Kayli to work with and in nonprofit organizations.
Nonprofit Work:
Most of Kayli's experience is in volunteering with and fostering for dog rescues. From Plenty of Pit Bulls in Gainesville to Husky Haven and Bully Up in Orlando, Pet Alliance of Greater Orlando, and even as the Foster Coordinator of The Big Mutt Network in AZ. In addition to all of this, Kayli has interned with the conservator's center in Burlington, North Carolina, and will be the Assistant Treasurer of the Avalon Park Foundation.
Education:
Bachelor's in Nonprofit Management – University of Central Florida (UCF) Expected Graduation Date Summer 2020
Hobbies:
Kayli currently volunteers for Orange County Mounted Patrol through exercising their horses on the weekend. She also spends time with her dogs, attends parades with the Mounted Patrol Unit, Volunteers at races with Avalon Park Foundation, and plans to help a nonprofit transportation group get dogs to their new homes through assisting in a portion of the drive.
Favorite book:
As an avid reader, Kayli has always struggled with this question. She does not have a single favorite book. The ones at the top of her list might be: Non-Fiction – Adopting the racing Greyhound, Fundraising for Dummies; Fiction – The Eragon Series, The Enchanted Forest; Classics – Grimms Complete Fairy Tales, The Call of The Wild
Favorite nonprofit Resource:
G Suite for Nonprofits