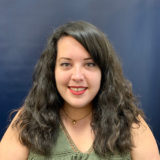 Kathryn "Kat" Burns
Nonprofit Consultant
What motivates Kat to help nonprofit organizations?
Kat is motivated by her passion for helping other people and the world around her and is looking forward to helping her future BryteBridge customers meet their philanthropic goals.
Nonprofit Work:
Kat's experience includes National Nonprofit, the American Childhood Cancer Organization, where she managed the office and helped her fundraising team raise over $700k with awareness T-shirt campaigns, Nonprofit Administration and Coordination for the Alliance for Childhood Cancer, along with Central Florida-local Nonprofits: program and event coordination for BASE Camp Children's Cancer Foundation & bookkeeping for Save the Manatee Club.
Hobbies:
Since relocating to the Orlando area in 2017 with her husband, huskies and cat, one of her favorite past times has become walking many many miles (almost 500 to date!) at Universal Studios & Islands of Adventure. Being an enormous Harry Potter fan and a Gryffindor, she loves immersing herself in the Wizarding World whenever possible.
Favorite Book:
Harry Potter & The Prisoner of Azkaban (but any of the Harry Potter books will do!)
Favorite Nonprofit:
One of Kat's favorite charities is Random Tuesday, Inc., which is dedicated to harnessing the power of fandom to inspire communities of fans to be more physically active while raising funds for deserving charities; her favorite program associated being "The Potterhead Running Club;" PHRC believes when #somuchgood is done for one's self and surroundings, the world becomes a better place.