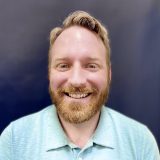 Justin Cox
Nonprofit Specialist
What motivates Justin about helping nonprofit organizations? 
Nonprofit businesses enable our communities to thrive by providing essential services and fulfilling basic needs. Justin is motivated to help others fulfill their vision and dream by launching and growing their nonprofit business. 
Nonprofit work: 
Before coming to BryteBridge, Justin worked for fifteen years in a faith-based nonprofit. He volunteers with many local organizations, including United Against Poverty. Justin also sits on the Renewed Hope Missions board, which operates a school in the Dominican Republic. 
Education: 
Bachelor's Degree in Entrepreneurship & Small Business Management – Florida State University. 
Hobbies: 
Justin is an avid writer with pieces published across the internet. He and his wife enjoy traveling and exploring new restaurants. 
Favorite Book: 
Red Rising by Pierce Brown. 
Favorite nonprofit book, blog or resource: 
While not a book solely focused on nonprofits, Dare to Lead by Brené Brown should be required reading for any nonprofit leader.