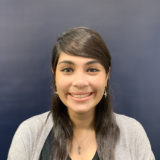 Gaby Salmon
Nonprofit Specialist
As a Specialist, my responsibilities include the preparation of a variety of corporate documents, as well as preparation of 501c3 tax exemption, annual nonprofit compliance, and other nonprofit development tools. My role in the team requires an understanding of budgeting, plus the ability to read and comprehend financial statements. Additionally, substantial vocabulary and comprehension of proper grammar are essential. My job includes constant client contact, professional speaking abilities, and the promise to provide quality customer service.
What motivates Gaby about helping nonprofit organizations?
Witnessing firsthand how passionate people are when describing their nonprofit organization and its mission. I take pride in knowing that I'm helping someone make a difference, whether it's in their own community or on a global scale.
Nonprofit work:
As an animal lover, Gaby supports animal rescues and other nonprofits that strive for the welfare of animals.
Education:
Bachelor's Degree in Technical Communications – University of Central Florida (UCF); Master's Degree – University of Leeds in West Yorkshire, England.
Hobbies:
Going to the Disney parks, attending Comic-Con (and similar) conventions, and being the best Dog Mom to a longhaired dachshund named Wicket.
Favorite Book:
Jane Eyre by Charlotte Bronte.
Favorite nonprofit book, blog or resource:
The Storytelling Non-Profit by Vanessa Chase