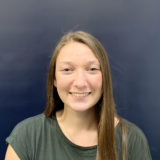 Ciara McCoy
Graphics Designer & Marketing Coordinator
What motivates Ciara to help Nonprofit Organizations? I enjoy helping people who are dedicating their time to help people who are in need. I think it takes a lot of heart and selflessness to be able to dedicate your time and energy to helping someone who is less fortunate than yourself and I admire that.
Nonprofit Work:
I interned with a Non-Profit called Sunrise of Pasco where I did their social media and graphic design work.
Education:
Double Bachelor of Arts in Marketing and in Multimedia Management from Saint Leo University.
Hobbies:
I like to go to the beach and be active. I played softball my whole life and now I enjoy watching sports (Go, Red Sox). I love to read and binge-watch the newest Netflix show and even play video games. I love dogs. All dogs.
Favorite book:
Harry Potter. End of story. No competition.