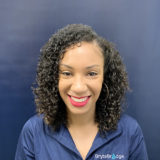 Brittany Johnson
Nonprofit Consultant
What motivates Brittany to help Nonprofit Organizations?
Brittany loves hearing people's passions about how they want to help their community and make a difference. She also enjoys knowing she has aided in that and reassures our clients that we will be their partner moving forward to grow and develop their mission.
Nonprofit Work:
Brittany's most recent nonprofit work was volunteering with the Second Harvest Food Bank of Central Florida. Her team separated food donations for families in need during the holidays and she really enjoyed it!
Education:
BS in Mass Media Communications – Florida State University, MS in Hospitality and Tourism Management – the Rosen School of Hospitality at UCF
Hobbies & Favorite book:
Hobbies include spending time with family and watching the newest movie on Netflix, also brunch! Favorite books are the Lord of the Rings Trilogy.
Favorite nonprofit Book, blog or resource:
She did not have much nonprofit experience before working here so her favorite resource so far is our website charitynetusa.com. She loves reading our client testimonials on how we've helped them get started. This is a great company to work for!