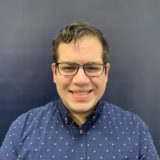 At BryteBridge, I have built websites for dozens of clients. I also work on internal web projects to improve the experience for both employees and clients.
What motivates your about helping Nonprofit Organizations?
Nonprofit organizations are a significant part of our society. They enact substantial change for the better.
Education:
Bachelor's Degree in Digital Media Web Design – University of Central Florida (UCF)
Hobbies:
Angel plays a lot of video games, watches a lot of tv shows and film, and enjoys drinking with friends.
Favorite book:
The House of the Spirits, Sphere, Frankenstein, 1984, The Awakening