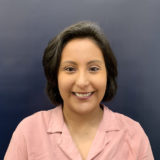 Andrea Ortega, MNM, CNP.
Director of Nonprofit Services
As the Director of Nonprofit Services, Andrea's responsibility is to ensure our nonprofit clients will become tax-exempt and have the necessary resources to fundraise and stay in compliance. Andrea holds a master's degree in Nonprofit Management from the University of Central Florida (UCF) and is currently pursuing her Ph.D. in Public Affairs at UCF with a focus in Nonprofit Management.
What motivates Andrea to help Nonprofit Organizations?
A strong desire to help others start and grow organizations that make a difference in their communities.
Nonprofit Work:
Prior to joining BryteBridge, Andrea was the Executive Director of a nonprofit in Central Florida for 8 years. She has been in the startup phase of the organization, learning about compliance and capacity building of a one-person team to having over 30 volunteers running the nonprofit she helped build. Andrea has experience in all things compliance, developing internship and volunteer programs, as well as fundraising capacity such as annual campaigns, galas, giving Tuesday, and much more.
Education:
Doctor of Philosophy Public Administration with a focus in Nonprofit Management – University of Central Florida (UCF) Expected Graduation Date May 2021; Master's Degree in Non-Profit/Public/Organizational Management – UCF; Bachelor of Science (B.S.) Packaging Science – UCF
Hobbies:
Spending time with her 2 girls who are under 2 years old. She also enjoys running and working out.
Favorite book:
Harry Potter, always have and always will!
Favorite Nonprofit Book, Blog, or resource:
For nonprofit resources, my favorite is Guidestar and CharityNet USA.