Engage in capacity building to improve your nonprofit effectiveness
Many nonprofit organizations experience difficulty in sustaining their operations. Whether it is due to funding or a lack of human support, the resolution to a solid foundation for your nonprofit can be as simple as moving forward in capacity building. Building your organization's capacity to effectively operate may assist you with reigniting your own passion in addition to the nonprofit itself. At CharityNet USA, we strive to assist organizations in reaching their goals through capacity development tools and techniques that instill confidence in the nonprofit future as well as mission attainment efforts.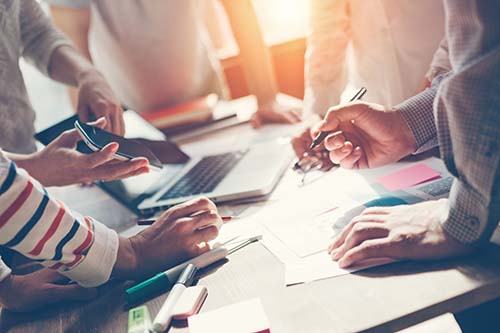 As a one-stop resource center for nonprofit organizations, we offer a wide range of products and services to assist organizations with capacity development. Capacity building for nonprofit organizations include: 501c3 document preparation, strategic planning, marketing services, graphic design, grant writing, fundraising, accounting, bookkeeping and much more. We also provide a la carte services such as one-on-one consultation, board biography development, and board policy manuals.
What is capacity development
and how can CharityNet USA assist?
Capacity building is increasingly becoming a priority discussion amongst nonprofit organizations and nonprofit management support services. Defined as "actions that improve nonprofit effectiveness," capacity building encompasses all activities that improve an organization's ability to achieve its mission. Capacity building is growing a healthy organization that can reach and sustain its mission long-term. Capacity building develops an organization's core skills and capabilities by strengthening its leadership, management, financial management, fundraising, programs, and evaluation methods.
Building a healthy organization will result in the development of adequate organizational resources. Coupled with measurable progress towards the organizational challenges and priorities, having healthy operations within the nonprofit enhances its ability to positively impact others. It's all relative; a strong board of directors, good strategic planning, a solid infrastructure and clearly defined roles and responsibilities must coincide to foster effective organizational growth.
Moving forward with services at CharityNet USA entails more than just document or product completion. We do not define our customers simply by product, or treat our clients as "just another number" as our competitors. Our company has successfully served thousands nationwide with solutions to help advance their mission, vision, and aims. Moreover, we have assisted these individuals and organization as if they were our own family, providing Fanatical Customer Service and peace-of-mind regarding the future of their organization. Even after we have completed your product or services, we are here to help. With over thirty business development solutions, it is our mission to help you help others in whichever manner we professionally can. Your search is over; CharityNet USA is your one-stop resource center for nonprofit growth and business development.
Our annual plans for nonprofit organizations are an affordable means of capacity building.
Want to learn more about what is capacity building?
If you have any questions regarding our services, please feel free to review our Nonprofit Service Video or Contact Us and one of our representatives will be happy to assist.